UFP Award 2016
Round 2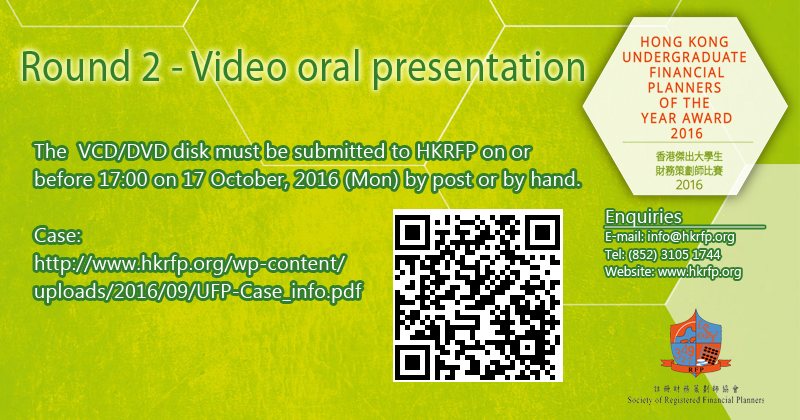 ※You are required to submit a VCD/DVD disk that contains:
 (i) a 10-minute video oral presentation file in English of your written financial proposal in Round One
    (acceptable file formats are mpeg 4, avi and wmv) and
(ii) a Power Point file of the slides that go with your presentation video.
Please prepare your completed disk with the above (i) and (ii) and mark your team name only when submit it to us. Please be reminded that your University name SHOULD NOT be mentioned in your presentation. The disk must reach at HKRFP office by 17:00 on 17 October, 2016 (Mon). HKRFP office is located at "Room 504, Blissful Building, 243-7 Des Voeux Road Central, HK" (near exit B of Sheung Wan MTR Station).  You are strongly advised to deliver the disk by hand in order not to miss the deadline.
※Acknowledgment will be sent via email within two working days after application and proposal are received. The organizer will notify all correspondence to participants by email matters.
Who we are
Society of Registered Financial Planners ("HKRFP") is established to promote professionalism in financial planning. HKRFP is a self-regulatory and not-for-profit organization.
Mission
We are committed to:
1. Professional excellence and upgrading of public interest;
2. Nurture professionalism among financial planners, and raise public awareness on values of financial planning services, and
3. Ensure the quality, integrity, objectivity, diligence, due care and attention of services are adequately provided by financial planning professionals.